The agritourism Il Cavaliere dei Conti is in the Regional Register of the Educational Farms.
The Educational Farm approaches young and adults to the nature. It's the ideal place for children and also an opportunity for adults to discover how food is created, how animals live and what are the campaign's trades.
The Educational Farm is a company having the necessary requirements in terms of significance, quality of teaching, security, hospitality and able to provide reception services, particularly for schoolchildren, in order to illustrate the processes and the methods of food production, the correlation between agricultural production and the preservation of the natural resources of the territory.

Come and visit us to experience an exciting adventure!
Discover how animals live, what are the campaign's trades and the local products.

The excursions
The agritourims Il Cavaliere dei Conti is not only the ideal place for a relaxing stay, but allows to rediscover the love for nature living an exciting adventure closely with animals. The owners' passion for horses is one of the features that makes it unique the holidays at Il Cavaliere dei Conti.
Our staff will accompany you on pleasant horseback ridings, in the short and medium term, to discover the most beautiful trails in the area, and in activities of trekking and hiking. And if you prefer walking, you can explore the village's fascinating sights moving through the old streets and enjoying unimaginable views.
The Cooking Class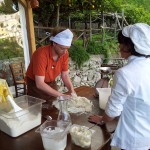 Booking a Cooking Class session you can have fun preparing food under the guidance of the Chef, to learn how to create typical dishes. Then you can taste the products prepared with seasonal ingredients (pasta, bread, pizza, cakes, donuts, local products) and "surprise-ingredients" available depending on the season.
Cooking Class sessions last for 2 to 3 hours. Once snatched the secrets of preparation you'll be able to put into practice what you have learned, to surprise your friends and relatives! ASK FOR INFORMATIONS ABOUT THE PRICE.